Posted by

AutoPub
Comments Off

on Car Love
You might find that you're ready to buy a car but want more information about the commitment you're about to make. Luckily we're here to help! Here are a few tips to ensure you get a positive and lasting experience from your new purchase.
Don't miss the warnings from your new vehicle!
Before you pop the hood to give it a look, the first habit you need to form is to pay attention your dashboard lights. The lights that come on after one turn of the key (or a half push, for keyless cars) and is your car's way of communicating any issues. Get familiar with the symbols and their meanings so you don't miss important warnings from your new vehicle.
Listen! Your Vehicle is trying to tell you [...]
Posted by

AutoPub
Comments Off

on Good Things Come In Small Packages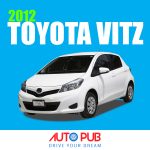 Are you a first-time buyer? You might not be sure which car to get but you definitely know what your budget is. Do you spend long hours in your car daily? Owning a comfortable car that keeps you happy on those long drives might be what you're looking for.
Maybe you're the value conscious driver, good features and low running costs are most important for you. You need a vehicle that gets the job done, has great fuel economy and is affordable to maintain.
The Toyota Vitz might be exactly what you're looking for! [...]